The Stay Reel Movie Club was birthed from my love for film and television backed with my passion for facilitating meaningful dialogue. With renewed attention being brought to the Black Lives Matter movement, I was approached by several people asking for my input and recommendations on reading materials that could help increase awareness. Realizing that not everyone would have the time to invest in reading, I created a watch list of films and television series that I felt would also be helpful to push forward the conversation on race relations, systemic racism, and the Black experience.
Our next discussion will be on the film "Dear White People" on Friday, October 30 at 7:00 pm.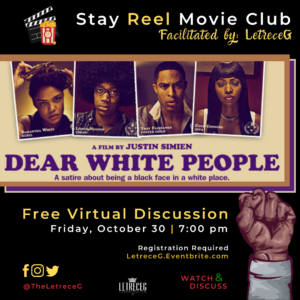 *The movie WILL NOT be screened during the meeting. Each participant is asked to watch the film before attending the discussion.
REGISTRATION REQUIRED: Register HERE